10 Tricks to Free Up Space on Android Smartphones : Sometimes even your microSD card gives you hard time when it comes to storage capacity. here are few quick tricks to Free Up Space on Android and rule your Android storage capacity.
It really does not matter if Android smartphones have expandable storage via microSD card. Apps like Facebook, WhatsApp, Instagram will always slow Down your phone and you will use whatever storage space is given to you, whether if it's 8GB or 100GB. Here are 10 Tricks to Free Up Space on Android Smartphones which I use to Free Up Space on Android device, both microSD, and internal storage.
Also Read: Top 7 Best Android 7.0 Nougat Features
10 Tricks to Free Up Space on  Android Smartphones
1) Clear All cache files
All Android Smartphones Apps or games use cached or stored data in order deliver you a better user-friendly experience. Do you know cached data saves your little mobile data and time at the same time? However, the file which is stored in games and apps caches are only for convenience and are not really necessary. If you need to Free Up Space on Android smartphones quickly, Games and Apps cache files are the first things you need to look into.
Also Check: 7 Easy tricks to Boost Android Performance
In order to clear cached files or data from any games or app, you will need to open Settings then Application and Application manager. Now just tap on the game or app you wish to modify. In game's or app's application info menu, click on storage and then click cache to clear the Applications cache files.
Also Read: How To Fast Charge Your Android 2x Faster
Same way when you need to clear cached data files from all games and applications, simply open settings and then click on storage and click cached data to clear all the caches of apps on your Android device.
2) Delete Unwanted downloads
Every Android smartphones have a day folder, in this folder, everything is stored for example videos, documents, photos and other files. Keep a regular check on your Download folder in My files. Delete Unwanted downloads and this will Free Up Space on Android smartphones.
Also Read : Top 3 Android Apps to Unroot Android Device
3) WhatsApp/Facebook downloads
This is the major reason nowadays where many of you are facing issues with storage capacity. WhatsApp and Facebook are the most used applications and you will find it and every phone. When you use this app the images, audio and video files you share or receive is saved in WhatsApp folder. You can simply visit My files – WhatsApp folder – Media – WhatsApp image/videos/audio – Sent (Sent folder is the things you have sent to someone) so you can delete this files and Free Up Space on Android device. The Same procedure goes with the Facebook application.
4) Benefits of Google Photos
You won't believe Google photos helps you to backup an unlimited number of photos in your phone This means you can now take a complete backup of each and every single photo which is stored in your android device and save it directly to google photos. Be rest assured this will not at all occupy your Google drive space. So once you take a backup of all the photos, just simply delete them from your phone and this will instantly Free Up Space on Android phones.
Also Read: What is the Factory Reset Protection and how to Activate on Android device
I'll explain to you how to make most of the google photos. first, you will need to turn in Google photos option which is backup & sync feature to take benefits of all free cloud storage space. In order to do this simply open the Google photos application and the click on settings and click backup & sync and turn it on.
Also Read: 12 Amazing Android Hack Secrets That You should know
Best Part of Google Photos
The best part of all Google photos gives you options to take backup your all photos at the high quality resolution and it's up to 16 megapixels. Or you can simply take backup at original size. Are you aware Google photos is so user-friendly that it gives unlimited storage capacity for any kind of photos be it your original size photos or high-quality photos? So make the most out of it.
The moment when you're done with taking the backup of your photos by using Google photos. now open settings and then click on free up device storage. By doing this Google photos will search and delete all the videos and photos that have been backed up so by this way you will Free Up Space on Android phones.
5) Moving applications to microSD card
This is more important when you have some serious issues with devices which have less Phone memory, for example, let's say 1GB, well this is not at all sufficient in today's time. These days apps like WhatsApp and Facebook takes most of the memory space on your device. Every Android phone lets you have a microSD card for more external storage. all you need to do is simply move the Applications and games which occupy more phone memory to microSD card and Free Up Space on Android phone memory.
Also Read: New Way To Increase Smartphone battery Life
Let me quickly show you how to do this. Fist open settings and then find "Applications" than Application manager and there you will find options to move any application of your choice.
If any app or game is movable, you will see an option that says "Move to SD card" just click on this button and you can move the app to your microSD card (In some Android smartphones you will have to click storage in order to find this option) Only a part of the game or application will be moved towards to microSD card. How much storage will be moved will totally depend on the app you're using. If you're a gamer like me trust me some games won't move a large amount of data from phone memory to microSD card. so the alternate solution for gamers please buy some high-end Android smartphones.
Also Read: Top 3 Reasons Not To Buy Extremely Slim Smartphone
6) Disable Inbuilt Apps
Some Android smartphones nowadays comes with inbuilt apps pre installed, this means there is no option to delete them from your phone. This pre installed apps like Google+ you won't be able to delete it and if you're not using it then it's unnecessarily occupying phone memory and microSD memory as well.
Also Read: How To Measure Phone radiation Android?
In order to free some memory from such apps you can simply go to settings and then click Applications after that Application manager and find the app you do not wish to use, open that app and under that application you will find an option which says "Disable" click on that and this will hide the Application also will free up the memory on your phone. You can manually find such apps and follow the above procedure to Free Up Space on Android smartphones.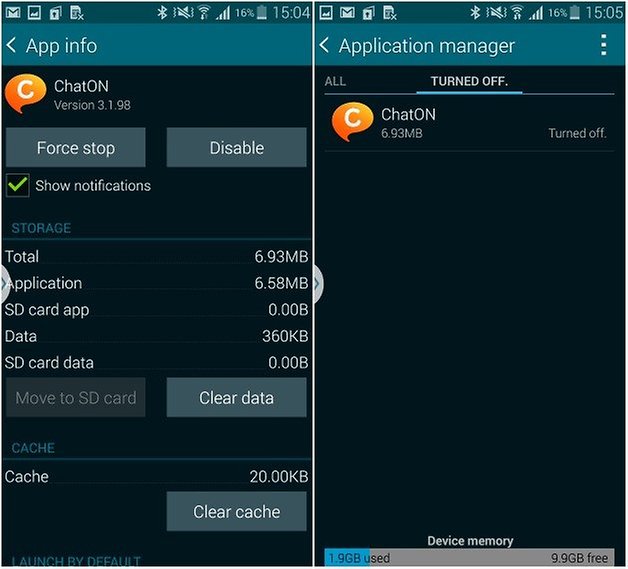 7) Uninstall Updates
This is the most helpful tip you will ever find. If you see nowadays when you're mobile data or WiFi is active it will ask us to update all apps from Google play store, by updating apps it's increasing your phone memory and also internal memory I.e microSD card. In order to save this only update the applications which you use frequently and don't update the apps which you don't use much. If you have kept auto-update app Settings on your Android device. Just open settings and then Applications – Application manager and then find the app which you do not use more often. Click on that app and you will find an option which says "Uninstall updates" click on that. This will quickly increase your phone memory and Free Up Space on Android devices.
Also Read: How To Turn Off and On Google Now On Tap Android
8) Use Applications to Increase Phone Memory
I'm sure every Android smartphones has Google play store Installed in it. There are many Android apps which are only dedicated to clear unwanted junk files to boost your applications and Free Up Space on Android devices for better performance. some of the applications are free while some of them are paid, however, you can choose as per your preferences. Some of the best booster & cleaner apps to increase Android performance are below.
Also Read: Top 5 Tricks to Increase RAM Android Easily
10 Tricks to Free Up Space on Android Smartphones Apps :
1) AVG Memory & Cache Cleaner App
2) Duplicate Contacts & Utilities App (Paid/Free)
3) History Eraser App (Paid/Free)
4) Advance Task Manager App (Free)
5) Start-up Manager App (Free)
6) 1Tap Cleaner App (free)
7) CCleaner App (Free)
8) Greenify App (Free)
9) DU Super Booster App (Free)
10) Clean Master App (Free)
Also Read: Top 5 Tips To Easily Use Google Maps on Android
9) External Devices
Free Up Space on Android phones with External devices. You can transfer audio, videos, and images From phone to portable devices like external hard disk or pen drive and save it. Also using your USB cable connecting your device to Pc, tablets or laptop you can transfer unwanted data from the phone.
Also Read: 5 Tricks To Boost Android Internet Speed
10) Moving Applications to Trash
After trying all of the above10 Tricks to Free Up Space on Android Smartphones and apps if you're still struggling for more space, there is no other way but to start deleting all the apps which you do not use more often by doing this it will eventually increase your MicroSD card and phone memory.
Also Read: How To Force restart Android Phone Without Rooting
Hope this article 10 Tricks to Free Up Space on Android Smartphones was useful and informative to you guys, if you like it do not forget to hit the share icons Below and please do subscribe our website for such handy Android tips and tricks.