Make Money Online From WhatsApp: Are you the one who loves making money online, who really likes downloading apps from Google play from which you can earn money instantly. Well, Then this article is just for you.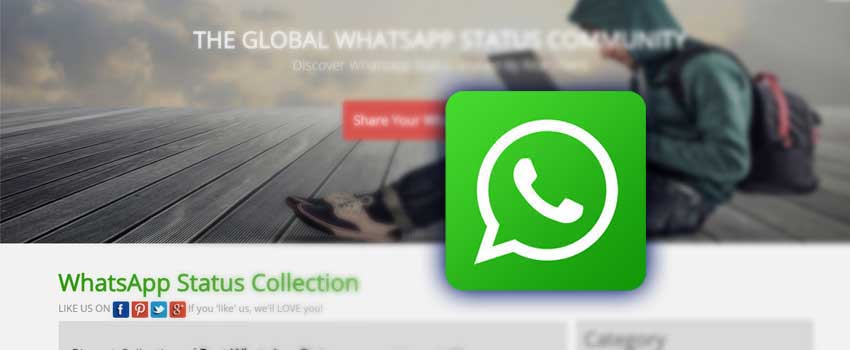 If you're really good in writing, for example, a short quotes or maybe
WhatsApp
or
Facebook
Status which is really interesting and eye catching to people. if the answer is yes, trust me this is going to make money from home for you.  WhatsApp is most used instant messaging
application
that you can ever find. With going in a number of users it has become most reliable application than others. With WhatsApp messenger, you share your emotions. From the breakup of marriage and from love to hate.
When you share emotions you speak of your heart and that's where you write creative things like beautiful heart touching status or quotes or may be sarcastic lines which no one has ever heard or read before. So don't you think that this creativity should be appreciated? Let's find out How to Make Money Online From WhatsApp. There are around 10000  WhatsApp Status to choose from, you just name it and they have it.
Normally what we do is just open Google search for a status as per our mood and update it. As you will find many websites which offer such WhatsApp status which you can use, there are many of them which you can use. however, there is a website called
whatsstatus.com
which daily delivers beautiful, unique and creative WhatsApp status. This website also helps the writers to earn by just writing WhatsApp status.
The website consists of 60 different categories such as Love WhatsApp Status, Spiritual WhatsApp status, Motivational WhatsApp Status, Attitude WhatsApp Status and Life, you name it and they have it. Hence we at
AndroidTopTips
have come up with this simple trick to earn money with WhatsApp.
Make Money Online From WhatsApp
 Registration Required
You'll need to first visit the website and simply fill the online form with all relevant details of yours, and with that, once you complete sign up you're eligible to write.
Start Writing Status
Once you're on the website you'll have over 60 WhatsApp status categories to choose. You have the option to choose anyone that matches your status and then start writing some unique WhatsApp status.
Status Submission
When you finish writing a beautiful quote or WhatsApp status you can submit them and wait for them to approve it.
Getting Paid
For the status or quotes that you have sent for approval gets approved you can earn money from it. They will pay 1 rupees per status for first 200 statuses and then after it will be 2 rupees per status. Isn't it cool!
Good to know information
Only do write unique content, Do not cut copy paste from the internet, as it will be rejected. Their website updates frequently on daily basis, so make sure you follow their terms and conditions and play by rules. Good luck!